Poett™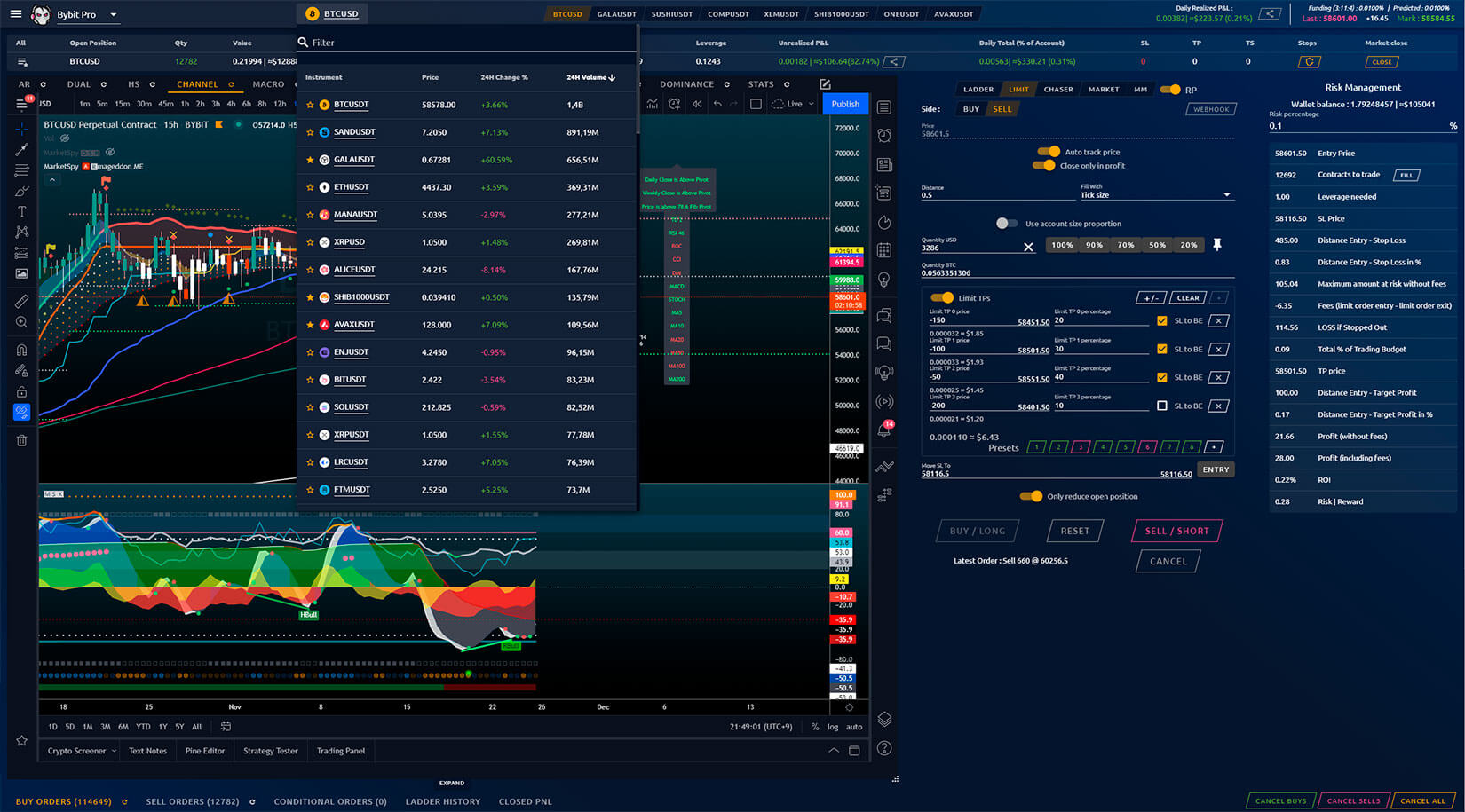 With Poett™, you have the power to trade better, smarter, and faster.

Our app seamlessly connects to leading exchanges like Bybit.com and Apex DEX, giving you access to a wide range of advanced tools designed to make your trading experience more lucrative. Enjoy the convenience of executing trades directly from the app, without the hassle of switching between different platforms.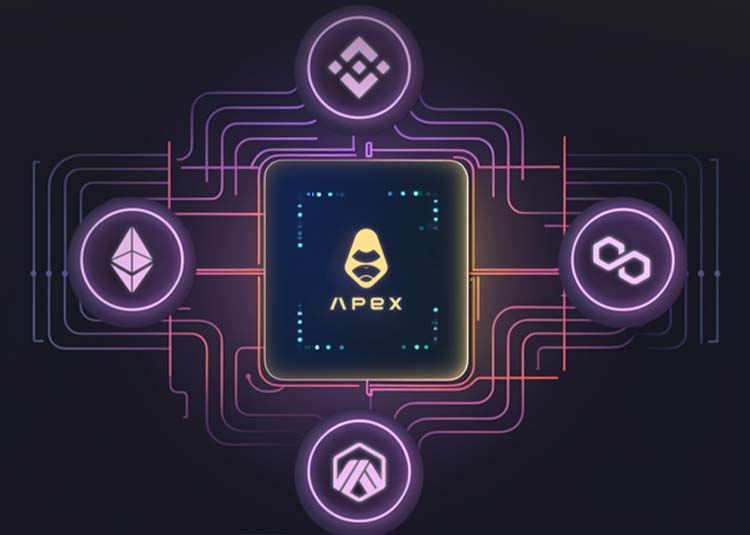 Decentralized Trading

Experience a new level of decentralized trading with Poett's latest integration - Apex DEX. You now have the power to connect to Apex directly using Poett, leveraging our professional toolset for profitable trading. Just like with Bybit.com, you can utilize advanced features like the unparalleled Limit Price Chaser, customizable One-Click Order Chain Execution Templates, and our comprehensive Risk Management Panel, all while trading peer-to-peer on one of the most exciting DEX platforms. We're bringing the sophistication of professional trading tools to the decentralized world. Enjoy trading the way you want, with the security and transparency of Apex DEX, and the power and precision of Poett.

Professional Features

Unlock a world of advanced trading features with Poett™.  Our price chaser keeps a vigilant eye on real-time prices, allowing you to execute bids or asks with limit orders, bypassing market fees while securing the best prices. The full risk management pane empowers you to plan and control your trades professionally, reducing uncertainties and maximizing gains. And with the market-making module, dollar cost average laddering, auto trailing stop, and one-click templates for take profit, you'll stay steps ahead of the competition.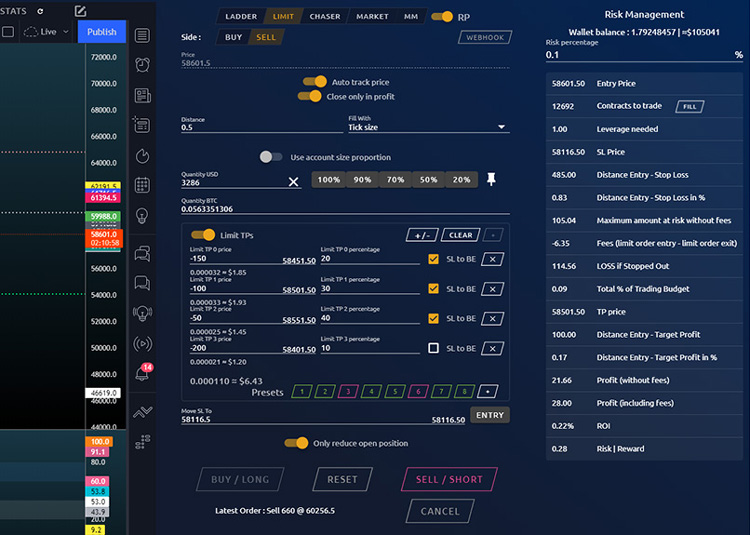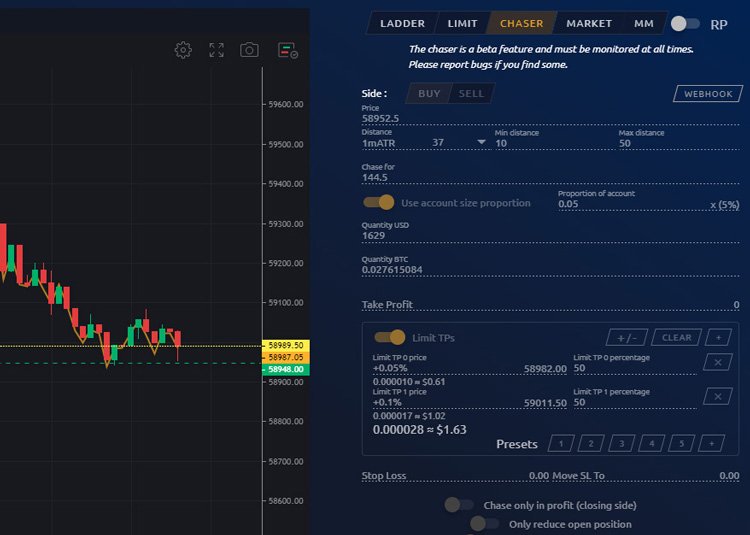 Secure By Default

Security is paramount at Poett™.
All files reside on your computer, and the app only establishes an outgoing connection to the exchange, eliminating any centralized servers that could compromise your credentials or expose your funds to potential hacks. With Poett™, you can trade confidently, knowing that your assets and data are safeguarded at all times.

Poett™ provides you with the tools you need to trade like a pro

Live price trackers for ladder-style as well as single-limit trade setup toggle can automatically create a buy/sell range while constantly keeping track of the latest price.
With chaser auto restart you can restart chaser functionality every time the order it's filled, this way you can size up your position size while the price moves.
With the power of webhooks, your imagination is the limit. Always wanted to automate trades through alerts in Tradingview indicators?
Now you can.
Create a buy/sell range while constantly keeping track of the latest price.
Fastest execution of limid bids and asks - that feel like market orders.
This feature automatically places and removes orders for you. It's magical.
Thanks to the Move Stop Loss feature you can create a trailing stop that will only activate when orders are filled.
With the webviews functionality, you can use any charting app or URL that you want inside the app by placing them in different tabs.
OCT are a quick way to apply multiple actions with a click of a button or a keyboard hotkey. Trade at the speed of light (or close to it).
The smart inputs let you set the value for TP, SL or other distances based on ATR, Delta, Percentage or the classic absolute price.
Thanks to the Move Stop Loss feature you can create a trailing stop that will only activate when orders are filled.
Order preview function allows you to see your exact average price when using a ladder-style order set. No more guessing and doing it manually using online calculators.
Two account by default, with the possibility to expand  tp up to three accounts totally free if you register them with our affiliate link.
The Terminal is fully customizable, are you one of those who hates red? Change it, no more stressful color palettes!
Live price trackers for ladder-style as well as single-limit trade setup toggle can automatically create a buy/sell range while constantly keeping track of the latest price.
The built-in Risk Pane in Poett™ takes care of your risk, position, loss and profit calculations with a click of a button.
Poett™ is the ultimate trading terminal designed to integrate with TradingView™ including a webview to your chart, allowing you to use custom indicators like MarketSpy TradingSuite™.

GET IT FREE

Poett™
‍Now Free for everyone.

Don't miss this opportunity to enjoy free unlimited access to Poett™ - the Professional Order Execution Trading Terminal. You will also enjoy all of the additional premium features found in the paid version, such as Chaser auto-restart, Market Maker tab, TradingView webhooks, and more!


"i started to explore Crypto Trading Q3 of 2020, and i followed some moonboys on YT, and brought their indicator packages, and before long i had nailed a couple of big trades and thought that this is easy,  and i got this,,, then BAM i got smashed, once, twice, and again a third time,,, i lost confidence in myself, and my decision making, i had to take a step back and have a close look at myself, my psychology, and the effects of the influencers that i was following, and i had to ask myself, if those influencers had my best interests at heart, or are there more things going on in the back ground, and lining their own pockets from people like you and me? ,, then i watched a YT video where Market Spy was back tested against another in some ways similar indicator, but after reviewing, i could see that market spy was far superior,,, i then started to follow @CR and the cryptopocalypse now community, which totally differant than any other group, because this group is full of respectful traders that have been on that slippery slope to Rekt city, and managed to dust themselves off before it was too late, this group of traders are the ones that made it, and survived, ,,, all other groups are so noisy and disrespectful, newbies come and go, and are never heard of again,,, dont be sucked in by the hype, CR teaches risk management, and trading psychology, and has the truly best tools in Bybit Pro to compliment the market spy package.  in saying that, if you think that you can buy a package, with a simple instruction manual that you can learn in a week, and become a immediate profitable trader, you are wrong, it doesnt exist.  Trading is your journey, you will need to dedicate your time and energy to learn, about the indicators and the whats probably more important than the indicator, learnnyour own trading psychology, because without the right psycohology, you will not manage your risk and your own greed, which will be your down fall no matter which indicator you use."
cliftonlewis330
09/12/2021

"I started my journey in crypto with a simple goal: Profits. I assumed that they would come in waves and that the only way for this BTC/CRYPTO market was UP. I had studied charts, read literature, watched a nauseating amount of videos showing and telling me how easy success would be. A practice account gave me some faint sense that I could indeed gain success in an instrument (BTC) that would ultimately only go UP.  Well, reality came in quickly and so did fear because not only was I not going up I was getting liquidated. I thought I needed an edge and I sought indicators. I watch these people playing casino with large stacks of money and seemingly always winning using these indicators that would guarantee success. So I bought in and of course continued to lose. My confidence was shot and fear was at an ATH. That's when I came across Cryptopacalypse Now, CR, MarketSpy, and Bybit Pro. It  wasn't just an indicator it was a complete approach that was based on confluence and confidence in a system.  I watched with trepidation and amazement as CR preached the gospel of responsible risk management and high probabilty trades, but most importantly an approach that valued your money by limiting your risk (Protecting the Bag).  The videos were so cool I found I had to join up and see what was really happening. What I learned wasn't as much about markets and the ups and down of the asset. I learned about my own emotional up and downs and how to manage expectation along with risk. I've learned how to undo the damage caused by FOMO and how to get out of a losing situation. Not only that but
the tools he has provided keep me profitable and focused on what is there NOW. Not what I want be there. I have to say that his teachings have changed my LIFE not just my bottom line. Thank you!"
"little by little gain. Risk management that CR has taught us. So a big thank you CR for teaching your knowledge to us. So now I have bought a brand new boat for my daughter for money I have traded (time about 2 months) using the words of CR wisdom, Marketspy and Bybitpro. Thank you so much"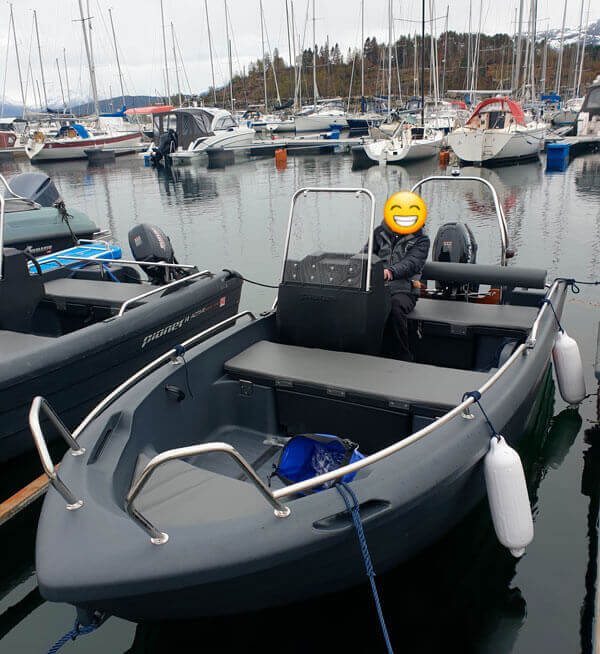 "A quick note to those who are interested. so far 100% hit rate using the new technique and ARME. live tested on BTC, RSR, NEO, XLM and OCEAN now also testing a few others. some look better than others. Nothing beats bybit pro for BTC.. also using higher timeframes before sleeping and the other night BTC hit. that's when i got my 270+%... Great community.. thanks everyone and special thanks to @CR ✪"
Many indicator bot systems groups that I have tried in my crypto trading adventure, which I participated many years ago, finally started to win only 2 years ago. At least I was starting to learn how to make money. We can say thanks to market spy, but I think the secret of success here in CR. You can read indicators well or be a very knowledgeable technical analyst. However, if you can't set a strategy for them, it won't work. The day that changed my trading life is the day CR taught me the ME-1 strategy. Now I could buy and sell in better places. For the last 1 year, profit wall has been a challenge for me. It has become part of my goal of making a profit every day for myself, not against anyone. Thanks market spy, @Alexandar  (•̪(•̪●)̪●) first contact, @Saix 🐙 first helping me MS platoon friends helping and sharing, @TranceGenik creating excellent bbpro and @CR ✪  being my master.
"I think a picture tells more than words. On the left side listening to moonboys. Where the arrow is thats the start of using MS. No words. It's just the right thing! And it not only the indicator or the bb pro or the strategies, what really made the difference to me is I learned to appreciate small but consistent gains and calculating risk. The thing that made also change complete my mind and I lost all the fomo stuff is calculating what 1% every day makes in a couple years! Thx @CR ✪ and the whole community!
"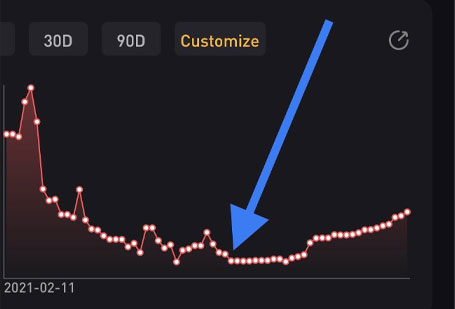 "I've been trying to work on my fomo, as I have had almost 100% success at buying the top & shorting the bottom in the past!! So this morning waking up to see the green dildo was a downer, but having patience and faith to believe in the dragon skin, I caught two nice dip entries & exits, and then while I got on with family lunch and walking the dog we dipped into the log box. (mine was 48-49k) which is now nicely in profit.
Thanks @CR for the confidence in the indicator and the power of the trampoline as well as the constant education. And thanks to all those active in the Platoon, for the support, encouragement, it's easily the best community that I've ever experienced on the net."
"Crypto is a cruel and seductive and mistress. Since 2017 she's taken more from me than I'll ever tell my wife, but after stumbling upon Market Spy.. it's all changed.
Slowly but surely, with the indicator suite and everything CryptoRanger has put together in Cryptopocalypse Now, I'm clawing my way back from the grave with a vengeance! As a fellow member once said to me when I first arrived..
"It just f'n works."
"Guys, I wanna share something.
Especially for you @CR ✪ .
A big thank you! It seems that I make real progress and I've become more and more profitable.
What a milestone, after such a long journey of only constantly loosing.Again and again, I experience nice, polite and helpful people, that contribute share and care.Not so long time ago, I was in despair, resignated and desperate, having lost more than 95% of my life savings.
I did not make much back yet, but coming out of that hole, has become a journey compared to be a desperate struggle and false hope.With @TranceGeniK implementing tools to really help us realize consistent profit, it complements CRs philosophy to leave greed and hope behind and just work for that daily, humble profit, tha market is willing to give us, almost painlessly.It has become a great joy to work with you all guys. Its a real pleasure and I feel, that I can help others already from time to time as well, which enriches my journey even more.
Learning and contributing hand in hand.
Big shout out specially to @Saix 🐙 and @Alexandar  (•̪(•̪●)̪●) Thank you all."
"I always keep hearing trading is a risky business and 90% of traders lose money and only 10% make money. This is not the case if you have Marketspy indicator. Having Marketspy indicator is like having glasses when you wear you can see and predict the future price of any asset especially Bitcoin. Marketspy indicator brings you in 10%of tradersright from the beginning without any special trading courses. You just need to spend some time to learn it and make a strategy for trading. I never made this much money in my whole life in one single month what I made in this current month so far using marketspy indicator (profit log is evident of that). I feel sky's the limit now. I am grateful to CR from the bottom of my heart for developing this indicator and his dedication to teach how to use it to make profits you never can even imagine"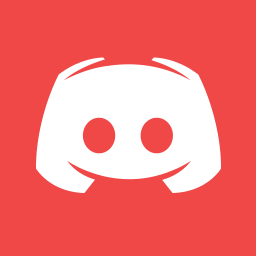 CR, Marketspy, Platoon and the trading philosophy CR preaches us is the real take away, you told us yesterday "this is the most difficult job on the world" "what are you going to do when the market crashes 20%?" "trading is not easy as youtubers tell you, this is not "buy because a green dot appeared". Today Cucu  reminded me about not taking things for granted (saved my porfolio just minutes before the crash and I got away in profit), there are no rules in trading, only small windows and we have to seize them intelligently sizing contrats, risks and rewards. I want to thank you CR for over delivering with MSX, DSR, Armageddon, your streams, trading knowledge and most importantly your philosophy. I hope this community continues on and on.... #lifechanging #overdeliver #kaisen